12 Aug

What Do the Accreditation Symbols Mean?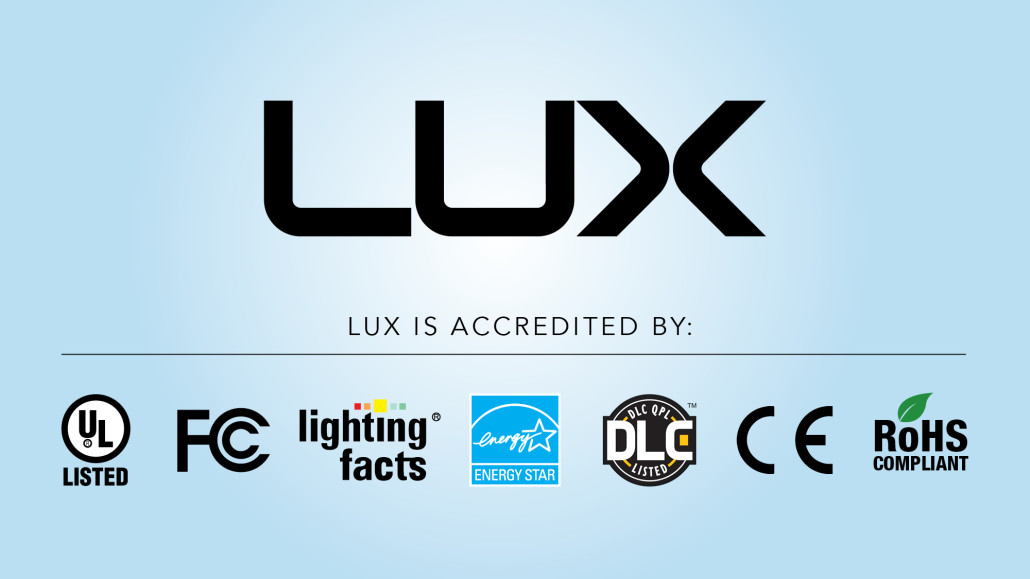 Here at LUX, we are proud of the accreditations we have earned to ensure our products are not only high-quality, but noticeably making a difference in the world we live in. Ranging from energy saving, to sustainability and safety, here is a list of what some of these symbols actually mean and why you should care.

ENERGY STAR: If you see this blue square mark on the packaging of any product, you can have peace of mind that what you're purchasing has been proven to save energy and help the environment. Energy Star is a trusted government-backed symbol and was created to reduce greenhouse emissions and other pollutants caused by the inefficient use of energy, all while ensuring product quality and energy savings at no compromise on quality - something LUX strives for. Check out this informative infographic created by Energy Star here.

UL LISTED: The UL symbol means the product, after a series of testing, meets the UL nationally recognized Standards of Safety. UL is non-profit organization dedicated to public safety and LUX is the first to market the only UL Listed dimmable filaments on the market.

LIGHTING FACTS: Products with the Lighting Facts symbol means a commitment to supporting improvement in the quality of LED products, as well as using the LED Lighting Facts labels and logos according to program guidelines. The Lighting Facts label requires important information to be presented in an easy-to-read format, much like Nutrition Labels on food products.

FCC DECLARATION OF CONFORMITY: The FCC label is a certification mark employed on electronic products manufactured or sold in the United States which certifies that the electromagnetic interference from the device is under limits approved by the Federal Communications Commission.

DESIGN LIGHTS CONSORTIUM: The DesignLights Consortium™ promotes quality, performance and energy efficient commercial sector lighting solutions through collaboration among its federal, regional, state, utility, and energy efficiency program members, luminaire manufacturers, lighting designers, and other industry stakeholders throughout the US and Canada. - (Taken from the DLC website). Commercial sector lighting are the key words here. So high-powered lighting or lighting for commercial buildings, such as panels and tubes, can qualify for the DLC label.

CE: Similar to the FCC Declaration of Conformity mark, the CE mark is a mandatory conformity marking for certain products sold within the European Economic Area (EEA) and indicates the compliance with EU legislation of a product. Check out LUX lighting solutions that are CE certified and available in Europe here.

RESTRICTION OF HAZARDOUS SUBSTANCES (ROHS): RoHS Compliant means the product is lead-free, and restricts the use of six hazardous materials often found in electrical products (Lead, Mercury, Cadmium, Hexavalent Chromium, Polybrominated Biphenyls, and Polybrominated Diphenyl Ethers). Check out LUX lighting solutions that are RoHS certified and available in Europe here.
These symbols are more than just an accent mark to add to our LUX product pages - they are proof of our commitment to innovation, excellence, and making a difference in the world we live in. And we try to keep it affordable, making it easy for others like you to join us in that commitment, one light at a time.